Regardless of whether or not your adventure begins with one of our personally conducted services, Action Outdoor Adventures offers exciting hunting and fishing packages throughout the world.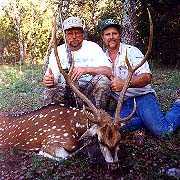 Our list of outfitters, species, and destinations grows almost daily as more and more sportsmen realize that we provide only the best in quality and service for our customers. The hunts we outfit, as well as those we represent through our booking service, offer high value, top quality, fair chase, and a lifetime of memories.
We personally conduct hunts in Texas and New Mexico for Exotics, Desert and Rocky Mountain Mule Deer, Pronghorn, Whitetail, and Elk. SCI members who hunt with us enjoy a special incentive. We rebate1% of all trophy fees to their chapters in their names.
We are presently hunting over 100,000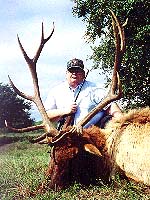 acres in New Mexico, and have over 26 concessions and thousands of acres in Texas from the South Texas Brush Country to the scenic Hill Country. Your hunt can be tailored to conform to your time, budgetary, and physical constraints.
We offer ranch style lodging as well as hotel/motel accommodations. We offer daily rates as well as inclusive packages; hunting exotic game every day of the year and native game in accordance with state and federal regulations.
Hunting and fishing in Texas is usually conducted on a year 'round basis,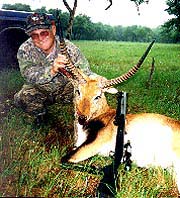 although the most popular times generally fall between the months of September through June. Local weather conditions can be extremely variable. Dress requirements could range from shirt sleeves to insulated underwear, on the same three day hunt.
Please give us a call to discuss cost, accommodations, travel, time constraints, permits, visas, areas, best times and seasons, and what you should bring. We represent outfitters from the tropics to the sub-arctic, and have found that such specifics are best discussed when you make your booking. This will enable us to tailor a trip to your individual requirements, and ensure that you get the maximum enjoyment out of your adventure.
Those who wish to drive to one of our local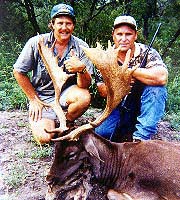 hunting or fishing adventures should come to Hondo, Texas, which is 40 miles west of San Antonio, on Highway 90. Those flying commercial airlines should book their flight into San Antonio International Airport. We are an authorized travel agency, and can make travel arrangements for you, if you so choose. Those who are flying in private aircraft should fly to the Hondo Airport, which has a 6,100 foot concrete runway. We will be happy to meet you at either airport, and return you at the conclusion of your trip for no extra charge.
Fishing is available worldwide for any species that you care to hook. Halibut, Grayling, Salmon, Great White Shark, Marlin, and Peacock Bass trips (just to name a few) are available. We also provide a guide service for Black Bass and Striped Bass locally. Please contact us to arrange a truly memorable fishing experience.
Thank you for considering Action Outdoor Adventures for your outing. You will find that our outfitting and booking service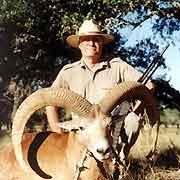 provides one-stop availability to a variety of adventures at no additional charge to you. Our travel service will assure you a trip that starts and ends right , with exciting moments and memories you will treasure forever.